Greetings from SEAMEO SEN.

In conjunction with the International Day of Persons with Disabilities this year, SEAMEO SEN will host EDUTok competition with the theme: "Not All Disabilities are Visible"!!
i. This competition seeks the attention of viewers to learn valuable educational content within the one-minute with a theme "Not All Disabilities are Visible"
ii. Through the creation of educational content in TitTok platform from the Special Education and Disability Inclusive Education area that supports persons with disabilities.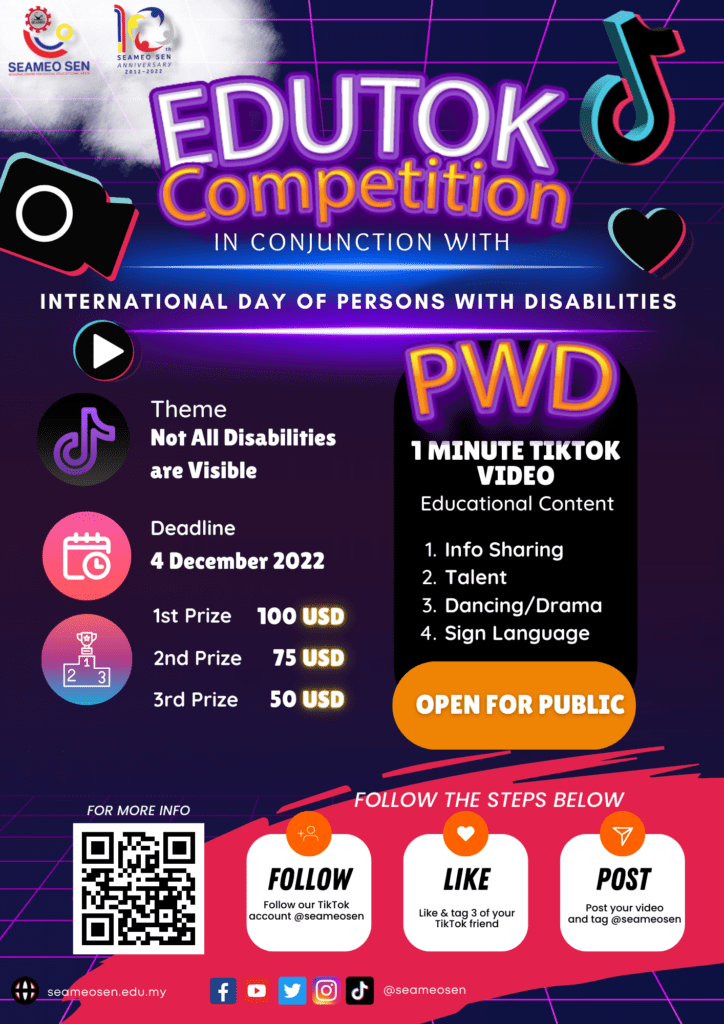 Three selected winners for each category will be awarded a monetary prize and an all videos will be promoted in all SEAMEO SEN official social media for 1 Month period.
Rank
PRIZE
First place
USD 100
Second Place
USD 75
Third Place
USD 50
Fourth place to 20th Place
Promotion in SEAMEO SEN social media
How to Submit the TikTok Video
Only videos that are published in the year 2022 will be accepted.

Follow and share SEAMEO SEN TikTok Account

@seameosen

Please include the SEAMEO SEN hashtags with the title "SEAMEO SEN EduTok Competition" in any visible video.

Standard content that should be in your videos:
We celebrate Persons with Disabilities Day with SEAMEO SEN Edu Tok to remind the public of " Not All Disabilities are Visible".
Title Video:
Name:
Like and Share
#SeameosenEdutok #PWDdayXseameosen #seameosen
A One Minute Educational Video, readily uploaded on a personal TikTok account, tagged and publicly available.
Let's join us!!
Showcase your creativity and talent through TikTok Videos.
🗓Deadline Video Posting: 4th December 2022
📜For any inquiries, please email to fezny@seameosen.edu.my and for more information, check the document below